About us
---
Dear guests,
from 7.08 till 15.08 we are closed.
Please visit us 16.08 from 5 pm.
---
In The Rozbrat 20 Restaurant, every day we propose different, surprising combinations that may seem unobvious.
Our motto is: courage, madness and unique taste.
We serve "Modern Polish Cooking" – modern Polish cuisine in a relaxing and less formal atmosphere.
---
---
In order to provide you with the highest level of service, please kindly inform us in advance about your vegetarian or vegan diet preference.
We also ask for information about any food allergies.
MENU
---
The menu is based on the best products currently available from local producers or trusted suppliers.
The meals are light, elegant and full of flavor.
---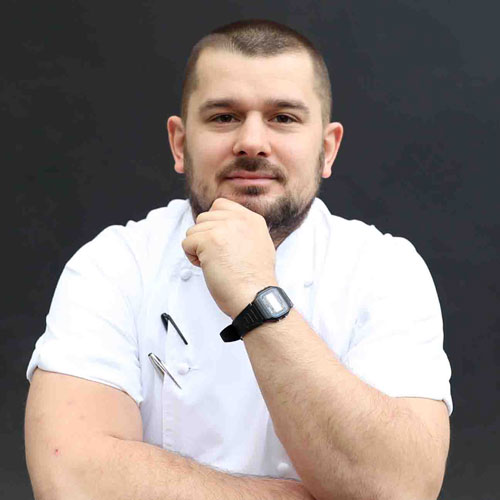 Bartosz Szymczak
Head Chef
Bartosz Szymczak
Bartosz was born in Gdynia, Poland. His entire world is to be the best cook and chef he can be. He gained substantial experience in London where worked in places such as at Bleeding Heart, at Arbutus, and at The Cow. The most beautiful moment of his career, according to him, was his first day of work with Tom Aikens...
more...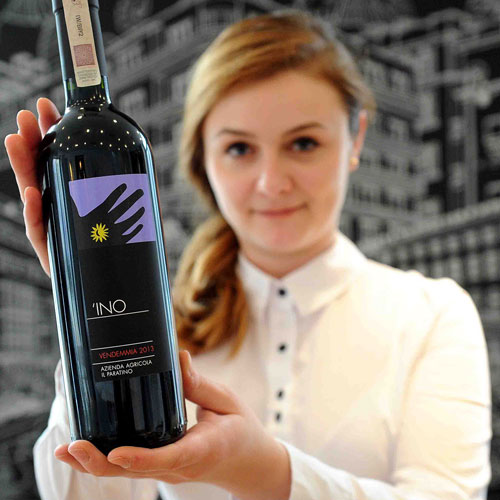 Ewelina Brdak
General Manager/Sommelier
Ewelina Brdak
I have been a manager of the Rozbrat 20 from the beginning. I prefer to describe myself as a wine enthusiast rather than a sommelier. This emphasizes my emotional attitude towards wine. In my work, I like most when guests return to the restaurant, remembering my service...
more...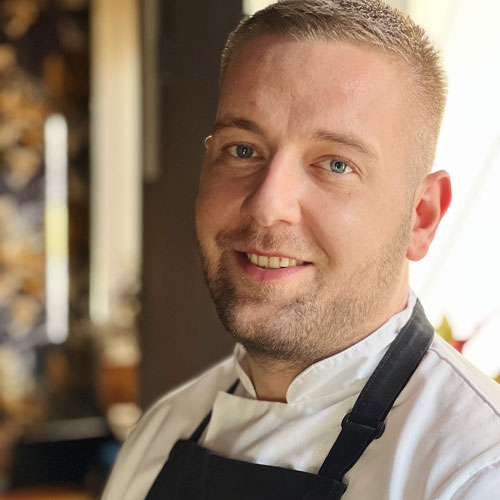 Andrzej
Michna
Sous chef
Andrzej Michna
Andrzej has been associated with Rozbrat 20 for five years. He started his professional career in Lublin, later moved to Krakow, and finally settled in Warsaw, where he met Bartosz Szymczak - his mentor. In collaboration with Bartek, he prepares the menu for the upcoming seasons, which requires enormous patience, determination and knowledge. Andrzej is an example that it is sometimes worth waiting to make your dreams come true.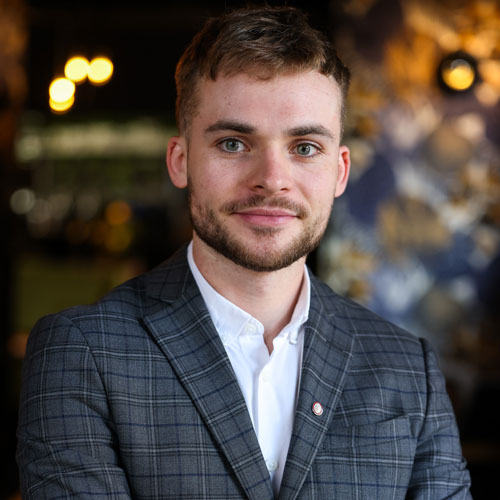 Łukasz
Mielnicki
Sommelier
Łukasz Mielnicki
What Łukasz likes the most in his work is playing with wine - while searching for exceptional food pairings. At Rozbrat 20, he is responsible for cocktails and alcohol menu card. A graduate of the prestigious Court of Masters Sommeliers and WSET. In his spare time, he loves travelling, eating, drinking and simply enjoying life.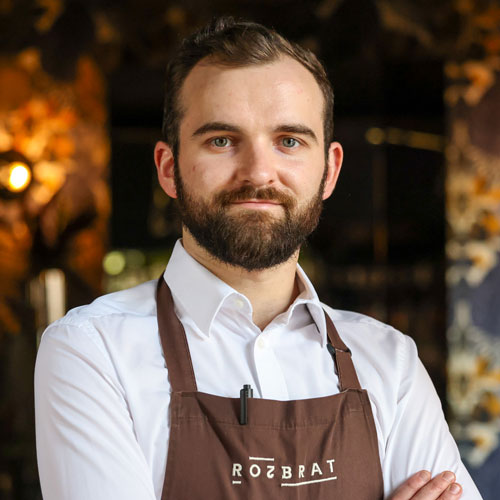 Wojciech
Stankiewicz
Waiter
Wojciech Stankiewicz
Wojciech has over six years of experience in gastronomy. At Rozbrat 20, he is responsible for cocktails and guest service. He spends most of his free time with friends having a good cocktail or travelling near and far.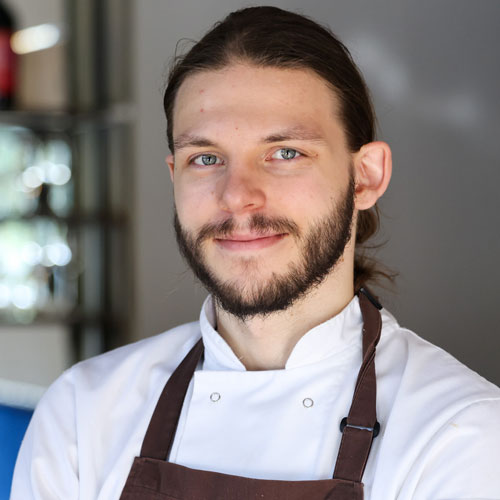 Stanisław
Chykilewski
Chef de partie
Stanisław Chykilewski
Stanisław started his adventure with gastronomy in restaurants in France. After returning to Poland, he settled in the Tri-City, where he worked in Prolog and Genesis. He is interested in Japanese and Nordic cuisine. He treats cooking as an art that is available to everyone. In the future, he plans to open his own restaurant.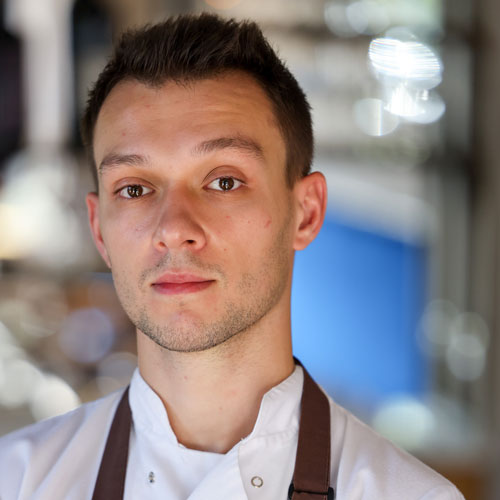 Marcin
Gwiazda
Chef de partie
Marcin Gwiazda
Marcin's adventure with the gastronomic world began nine years ago in an Italian restaurant in Ursus district in Warsaw. He has worked in many places highlighted by the Gault et Millau guide, but Rozbrat 20 is his greatest challenge. He likes spending time actively. He enjoys playing chess and board games. He is passionate about the box.
Wiktor
Lichnowski
Chef de partie
Wiktor Lichnowski
For a year, Wiktor worked in one of the best restaurants in Iceland, where he mainly dealt with fish, seafood and seaweed. After his return, he worked in Gdańsk. He focuses on the cuisine of the product and the natural product itself. At Rozbrat 20, he is responsible for starters and desserts. After work, he is passionate about challenging bicycle rides.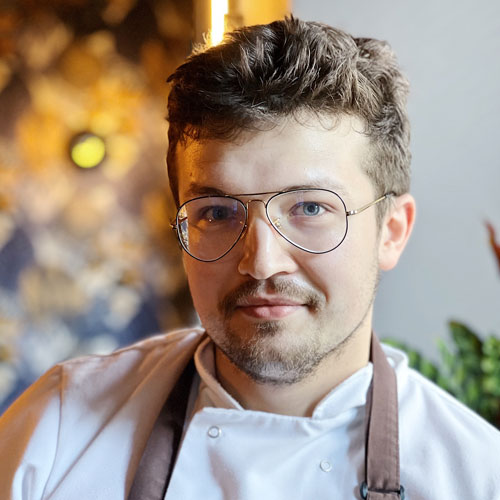 Adrian
Mastaj
Demi Chef de partie
Justyna
Maciejewska
Waitress
Justyna Maciejewska
Justyna is hardworking and devoted to what she does. She loves to combine travel with food. She spends her free time on sports and cooking. Her greatest passion is, however, the field of "beauty".
Rozbrat 20
Tue.-Fri. 12.00-22.00
Sat. 14.00-22.00
ul. Rozbrat 20
00-447 Warszawa
Poland
tel. +48 690 125 270
biuro@rozbrat20.com.pl
Seasons Rozbrat 20
---
Season is a term for time. The time in which we want to meet with You.
We divide the year into 6 seasons. And for us each season is different.
Sesonality. That's how we think about nature, cuisine and man. We draw from rites, and tradition. We're learning nature's rhythm.
---